Tornado property damage? What comes next…
February 17, 2017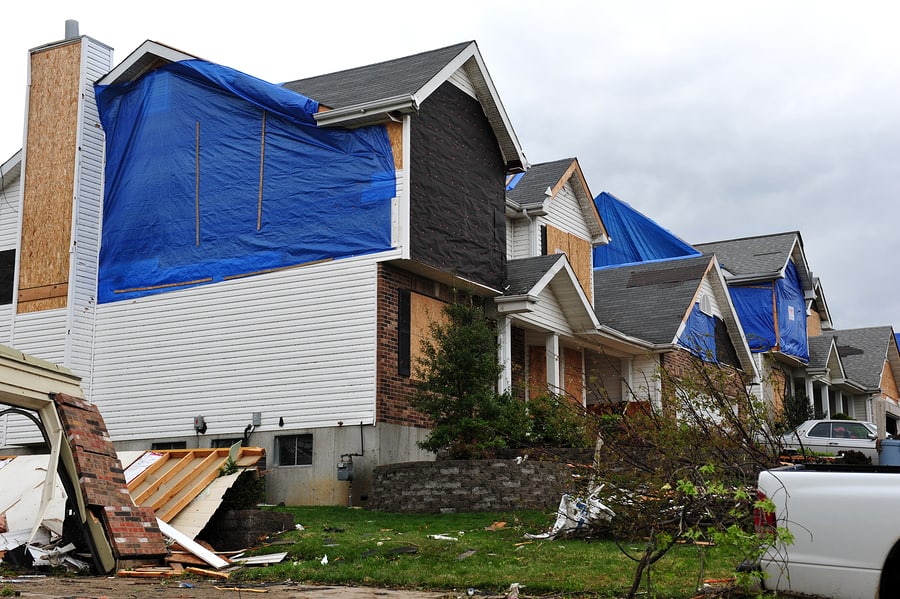 Tornados not only leave a wake of destruction in their path, but also leave policyholders with many questions and concerns on rebuilding.   Whether your property suffers minor damage, or everything is lost, the experience is traumatic nonetheless.  On February 14th, six tornados touched down in Houston and surrounding areas causing considerable amounts of damage.  To begin the repair process individuals and businesses are focusing their efforts in these areas.  Knowing who will be in your neighborhood and possibly knocking on your door can provide some clarity and avoid unnecessary difficulty following an event such as a tornado.
There are several parties whose interests you should understand and be on the lookout for following a tornado.  Some of these include public adjusters and contractors.  These parties are looking to you, the victim, to provide them with business.  Typically, once you have filed a claim with your insurance company, your insurance company will assign an insurance adjuster to inspect the damage and provide an estimated repair cost for physical and personal property.
Public adjusters are individuals that represent the policyholder, rather than working on behalf of the insurance company.  Although the idea of an adjuster working to represent you sounds beneficial, it is important to be wary of who you involve in the process.  Public adjusters must be licensed by the state and they charge typically 10% of any recovery the policyholder obtains.  If they are unable to resolve the claim to the policyholder's satisfaction, they do not have the power to file a lawsuit to hold the insurance company responsible for their wrongful conduct under Texas law.  Legal advice may be beneficial prior to hiring a public adjuster to determine the appropriate course of action to minimize unnecessary expenses.
Contractors are another type of party that help policyholders recover after a weather event like a tornado.  Many contractors will focus a large portion of their business on doing repair work and rebuilding following these destructive storms.  To gain as many projects as they can handle, contractors often go door-to-door seeking new projects after a weather event like a tornado.  Like the public adjusters, the contractor is limited in their ability to hold the insurance company responsible in a court of law for the full amount of damages.  Further, Texas law restricts the ability of contractors to "adjust" claims without a license.  Unfortunately, some contractors sacrifice obtaining full damages on a claim to the detriment of the policyholder to avoid litigation and move on to the next project.  Some contractors will work with public adjusters and attorneys to make sure the policyholder is fully compensated for the loss.
Although getting back to the way things were is most homeowner's primary goal, it is important to understand the extent of help each party can provide under the law.  If you are unsure of who should and should not be involved in this process, a legal professional can point you in the right direction and work with these parties on your behalf.