How Do I Prove Fault for a Truck Accident: 7 Key Pieces of Evidence
May 3, 2021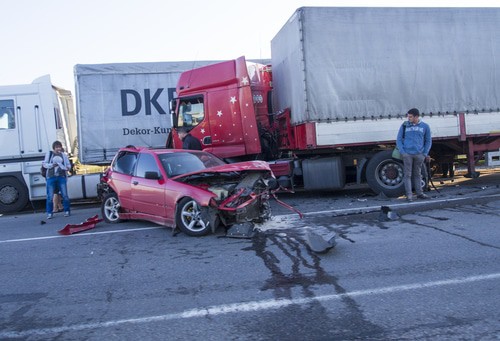 Evidence that's usually essential to proving who's at fault for a truck wreck includes:
The police report
Witness statements
Dashcam footage
Records from  the vehicles' electronic onboard recorders
Truckers' log books
Cellphone records of all drivers
Trucking company records
Here's why this evidence matters and how it can help support and strength truck accident cases.
7 Types of Evidence That Can Prove Fault for a Truck Wreck
While not all of this evidence may be necessary or useful in every truck accident claim, most of it is helpful most of the time.
The Police Report
If police responded to the scene of the truck accident, they will write up an official police report, and this report can be powerful in:
Determining who some of the liable parties may be
Uncovering potential evidence for a claim, like witnesses or breathalyzer test results
Detailing the nature and severity of the damage and injuries caused by the crash.
Witness Statements
Witnesses can fill in the blanks when it comes to what happened before, during, and after the truck wreck. In situations where the involved parties are severely injured, witness statements may be the only narrative available for the crash.
Dashcam Footage
If trucks and/or other involved vehicles are equipped with dashboard cameras (dashcams), the footage captured by these devices can be incredibly helpful to:
Backing up or refuting victims' and/or witnesses' statements
Revealing details no one witnessed during the crash
Determining the point(s) of impact
Records from Vehicles' and Trucks' Electronic Onboard Recorders
When passenger vehicles and trucks are outfitted with crash data recorders (CDRs) and electronic onboard recorders (EOBRs), these recorders can provide key information about how a truck moving and being operated before and during a wreck. In fact, CDRs and EOBRs can provide details like:
Speed
When the brakes were applied
For passenger vehicles, braking history and whether airbags deployed
Any equipment on the truck that was faulty or broken
How long the truck had been on the road prior to the accident (which could indicate a driver may have violated hours-of-service rules)
And more
Truckers' Logbooks
These logbooks can contain details about:
How long truckers have been driving or on-duty and when their last rest period was (and how long that was)
When and how frequently the trucker inspects the truck and gets the equipment maintained
When the trucker picked up a load and who secured that load
Any of these details could reveal trucker, trucking company, and/or others' negligence.
Cellphone Records
These records can reveal whether any of the involved drivers may have been distracted at the time of the crash.
Trucking Company Records
These documents can show whether motor carrier negligence like (but not limited to) the following may have contributed to a truck wreck:
Hiring unsafe drivers: This can include failing to conduct and document driver background checks, drug tests, training, and licensing.
Creating unrealistic schedules: This may force drivers to skip legally required brakes and rest periods. When that happens, fatigued drivers may also be speeding to stick to a schedule, and that can cause wrecks.
Failing to maintain trucks: This can lead to equipment malfunctions and failures, like tire blowouts, steering system failures, brake failures, and more. Any vehicle equipment failure can make it hard, if not impossible, to safely control the vehicle.
Need Help Gathering Evidence for a Truck Crash? Contact the Amaro Law Firm
If you or someone you know has been hurt in a wreck, don't hesitate to contact a trusted truck accident lawyer at the Amaro Law Firm. We're ready to answer your questions, explain your rights, and build you the strongest possible case.
Call (713) 955-5521 or Contact Us
for a Free, Confidential, No-Obligation Case Evaluation
In the aftermath of your 18-wheeler accident, the evidence for a claim can be critical to its outcome. At the Amaro Law Firm, we can do more than just point out the evidence you may need to prove fault for your truck wreck—we can effectively present that evidence and compelling arguments to help get you secure the full compensation you may deserve.
While money can't erase the accident or the damage it's caused, compensation can help you restore your life.