MAJOR ACCIDENT CAUSED BY UNATTENDED 18 WHEELER ON BEAUMONT HIGHWAY, TEXAS
September 29, 2016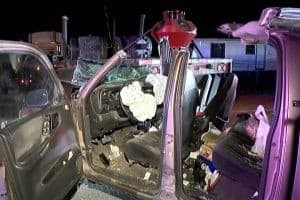 On September 17, 2016, a young woman was transported by Life Flight to Memorial Hermann Hospital after she collided with the rear of an 18 wheeler that stopped on a Beaumont highway.  According to authorities, the driver of the 18 wheeler stopped his truck in front of the business where he was dropping his load off on the traveling lane of an unlit highway.  By the time the driver of an SUV saw the 18 wheeler, she attempted to swerve to avoid impact but slammed into the rear of the 18 wheeler.  The driver of the SUV and another passenger were taken to a hospital and remain in stable condition.  The front passenger was taken by Life Flight and remains in serious condition. The driver of the 18 wheeler was not around his vehicle at the time of the wreck and was not injured.
Under federal law, 18 wheelers have special rules they must adhere to when stopping on the roadway.  For example, if an 18 wheeler is stopped on the traveling portion of a highway, such as in this case, the driver must utilize his flasher signals.    The driver then has to place warning devices in the direction of the traffic at various distances to warn oncoming drivers that a large tractor trailer is disabled in the traveling portion of a highway.  Further, under the Texas Transportation Code prohibits drivers from stopping or parking a vehicle on the traveled portion of a highway.  The Transportation Code also prohibits drivers from leaving their leaving their vehicle unattended on the traveled portion of a highway.
Federal and state law imposes very strict regulations on commercial truck drivers in order to protect the public from preventable accidents such as this.  Anyone who continuously disregards the federal regulations needlessly puts the public at risk.  These individuals must be held accountable for their actions so that our roads can be made safer.  The Amaro Law Firm litigates 18-wheeler cases nationwide.  Therefore, we encourage anyone with information about the wreck to come forward so that we may help bring the families justice.  Whether you witnessed the wreck, passed by after it occurred or while the wreck was being cleared, or are a relative of the deceased or injured, if you have any information, do not hesitate to contact us.
WARNING: If an individual approaches you or your loved one at your home, work, or in the hospital in an attempt to convince you to sign up with an attorney, they are case runners and are committing illegal barratry.